Two children, uncle drown in Sims Bayou fishing accident
This is an archived article and the information in the article may be outdated. Please look at the time stamp on the story to see when it was last updated.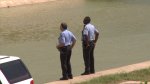 What was supposed to be a day of fishing fun quickly turned into a nightmare in Southeast Houston. A family was visiting The Sims Bayou when police say two children ended up in the murky water. Their uncle went in after them, and he too found himself in danger.
The kids were pulled from the bayou by a bystander but it was too late. Both died at Memorial Hermann Hospital. A dive team found the body of their uncle a short time later.