This is an archived article and the information in the article may be outdated. Please look at the time stamp on the story to see when it was last updated.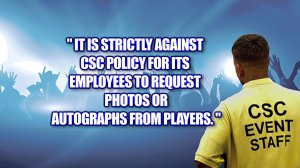 HOUSTON, TX – When the Texans vs. Patriots game started it looked like things could've been turning around for our boys. After halftime, however, Houston fans should have known it was just a matter of time before the Texans began their infamous 'fourth-quarter-fail'.
The Bayou City didn't exactly have much to celebrate after the 34-31 loss, but Quarterback Tom Brady sure did. Perhaps it was the killer comeback (or the fact that Tom's going home to model Gisele Bundchen)?
Either way, when Reliant Stadium security guards, Joel Williams and Christopher Moore, ran into the super-star QB after the game Williams says Brady was a cool guy. Williams explained, "I said hey Tom Brady good game. When he responded with a positive affirmation, that's when I went on and said, do you mind if I take a picture with you and he said sure!"
A picture with Tom Brady's sure to be worth a thousand words, but apparently it's worth two jobs, too!
This slideshow requires JavaScript.
Williams says after he snapped the picture with Brady, he got a call on his radio saying he was fired. Williams says the security company he worked for, Contemporary Service Corporation, wasn't concerned about the athletes' safety but rather, "…they were just more concerned with holding somebody in check at that point."
If that's the case, the company should really consider putting some kind of policy in place. Oh, wait! They already have one!
Contemporary Service Corporation, the company providing security for Reliant Stadium, said in a statement, "It is strictly against CSC policy for its employees to request photos or autographs from players. CSC stands by its decision to terminate the two employees who violated this policy."
Rules are rules! At least the two men will always have their pictures, and a great story about how they became part of the Brady Bunch (even if it did cost them their jobs).