This is an archived article and the information in the article may be outdated. Please look at the time stamp on the story to see when it was last updated.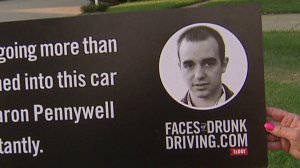 CYPRESS, TX – Whether it's facing fines and jail time or facing grief, we can all agree that too many Texans face the consequences of drunk driving. Sadly, the Pennywell family from cypress knows the latter all too well.
"June 25th of 2011, our oldest son Aaron was killed by a drunk driver," said Dennis Pennywell.
The Pennywell's are featured in the Texas Department of Transportation's campaign: Faces of Drunk Driving.
"All we can do is tell his story and hope it influences people to drink responsibly," said Dennis.
Aaron, a 20-year old waiter, had just gotten home from work, and joked around with his mom before heading out again.
"Then he told her he loved her, and that he was going to Whataburger to eat supper with his girlfriend, and never made it back home," said Dennis.
"The man who had hit Aaron has just been released from probation on a felony drug charge about a month before the crash happened," Dennis added.
Dennis says the man who hit Aaron had left a fight that was going on at a party, then turned around and headed back to the party. That's when Dennis says the driver ran through the intersection, hitting Aaron, killing him almost instantly.
"It was just like a shock. And then all these kids started coming over. And they were, everybody would go up to his bedroom and look for him. And look for his car and it wasn't here," said Kae Pennywell, Aaron's mother.
TxDOT says there is an alcohol-related crash every twenty minutes in Texas. It's a statistic that's completely, 100% preventable.
"It could have been avoided. He didn't have to get in his car, you know? He was drunk," said Kae. "And so, Aaron suffered the consequences for it. And we all do: his family and his friends."