This is an archived article and the information in the article may be outdated. Please look at the time stamp on the story to see when it was last updated.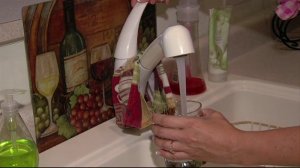 SUGAR LAND, TX – Man, it's hot out! And you know what they say — "Hydrate, hydrate, hydrate!"
But if you're living n Sugar Land that could become a problem for some folks. In fact, starting August 15th your drinking water could be toxic to you.
See — Sugar Land's switching the way it disinfects its public drinking water. As they transition from ground water to surface water, instead of adding chlorine, they'll add a combination of chlorine and ammonia called chloramines.
"They've been used in the U.S., Great Britain and Canada for almost 90 years now," says Sugar Land City spokesperson Doug Adolph, "In fact, more than one in five Americans drink chlorinated water."
He's right. In Houston, they've been using chloramines for a while now, but they can be dangerous to a few groups.
"People who use dialysis machines will need to consult their physicians to determine that they're using the correct filter and home treatment equipment," warns Adolph, "because the fact of the matter is that chloramines can be toxic to people who do not use the correct equipment for dialysis purposes."
Did you catch that? It's worth repeating:  CHLORAMINES CAN BE TOXIC TO PEOPLE WHO DO NOT USE THE CORRECT EQUIPMENT FOR DIALYSIS.
Don't worry, though, making sure you're safe is as easy as buying a new filter. Just check with your doctor first.
Another group affected by chloramines — the fish in your fish tank. Again though, it's as simple as changing out a filter.
So Sugar Land, don't be scarred about the switch to chloramines. And if you're on dialysis or have aquatic friends, make sure to get out and buy those filters; or you might wind up like so many goldfish– belly up!