This is an archived article and the information in the article may be outdated. Please look at the time stamp on the story to see when it was last updated.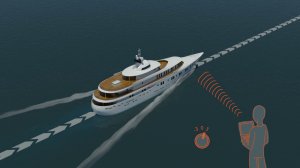 AUSTIN, TX – So many things can take control of our lives. With parental controls, mind control and remote controls, there comes a time when we all must learn to take charge.
So, a group of students from the University of Texas, along with their professor, decided to show the world just how easy it is to take-the-reins. The group literally took-the-reins from the captain of a 65-meter super-yacht while it was in the middle of the Mediterranean Sea.
They were able to do so with the creation of a device that sent the yacht fake GPS signals, and essentially gained control of the $80 million boat's navigation system without so much as triggering an alarm. They did all this with the yacht owner's permission, but now that we know how easy it is to fool a vessel's GPS (and considering that 90% of the world's freight moves by sea) this could be an area of study worth looking into.
Because, in the words of Janet, Miss Jackson if you're nasty,"… It's all about control."