This is an archived article and the information in the article may be outdated. Please look at the time stamp on the story to see when it was last updated.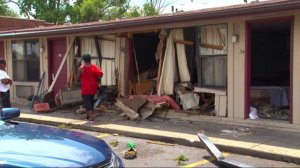 TOLEDO, OH – The Crown Inn Motel in north Toledo, Ohio became a drive-thru after a van checks into a pregnant woman and her boyfriend's room.
Surveillance video shows a man driving a van come barreling off the road, through some shrubbery, then takes out a pole and crashes into Rochelle Watson's room.
As the wrecked van sat, gas fumes began to fill the room.
Rochelle pleaded with the driver to turn off the engine, fearing the van would explode, but as the video shows, the shirtless man jumps out of the van and goes running off towards the road.
Thankfully, Rochelle and her baby are fine.
As for the driver who checked out? He didn't get far.
Police arrested him in a nearby parking lot and checked him into jail.