This is an archived article and the information in the article may be outdated. Please look at the time stamp on the story to see when it was last updated.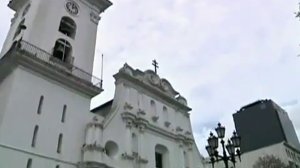 CARACAS, VENEZUELA  – The holy ritual of communion is in jeopardy at the Catholic Church in Venezuela thanks to a shortage of sacramental wine and wheat, used to make communion wafers.
Catholics aren't the only ones affected; the entire country is coping with shortages.
You'll need the Big Guy's blessing if you're trying to find dairy products, diapers or toilet paper. It's so bad Venezuelans are turning to relatives in the U.S. to ship them basic necessities.
President Nicholas Maduro, who took over for the late and crazy Hugo Chavez, says this is the work of 'unscrupulous businessmen.' That's probably better than calling it an act of God, but most would just call it socialism at its finest.
Back to the Catholic communion calamity with no miracle in sight, they're rationing what they have; but now have permission (in extreme necessity) to use wine from Chile and Argentina. It'll do the job and it's cheaper than French, Italian and Spanish wine. Thank goodness there's a cheap alternative since the Catholic Church is so poor.