This is an archived article and the information in the article may be outdated. Please look at the time stamp on the story to see when it was last updated.
HOUSTON — The Houston Police Department released the names of at least eight documented MS-13 gang members charged following four separate murder investigations— including the violent deaths of two members, a woman affiliated with the gang and an innocent man killed in the parking lot of a southwest Houston restaurant.
"Our city is led by a mayor that has made public safety one of his top priorities," HPD Chief Art Acevedo opened a press conference Tuesday regarding the arrests.
The police chief stood alongside Mayor Sylvester Turner, Harris County District Attorney Kim Ogg, homicide investigators and representatives from several federal and state law enforcement agencies — such as ICE and Texas DPS — as he announced the collaborative investigation targeting local MS-13 gang members.
[WATCH: Mayor, HPD announce major arrests of MS-13 gang members]
"These people are not just murders, they're involved in all kinds of activity—human trafficking, drug trafficking, gun trafficking—other types of illegal activity ," Acevedo said.
So far, at least 11 men and women — including minors — have been charged, and Acevedo said countless more arrests are expected as the agencies take a "big chunk out of MS-13" in Houston. Acevedo confirmed an additional 10 members have been detained by ICE operatives.
"Putting our efforts toward the most dangerous in society pays off," Harris County DA Kim Ogg said. "And in a time of limited resources, I just think it's critical."
According to Acevedo, close to 800 documented MS-13 gang members reside in the Greater Houston area— just a fraction of the 20,000 documented members nationwide. He added the partnership is especially needed given HPD is dedicated to mission but reportedly short 100 officers.
"Houston is not going to let any illegal, dangerous gang continue to threaten the peace and reputation of our city," Turner said. "Houston will continue to be a welcoming city for families who abide by our laws and want to find opportunities to work hard and contribute. But at the same time, we will not hesitate to take definitive, decisive steps to rid our streets of people who would plague them."
Acevedo also announced the arrests of four men charged in the fatal stabbing of man in Cullen Park in the Gulfcrest area on June 6.
Victor Castro-Martinez, 25, was murdered using a machete and abandoned in a wooded area in the 6700 block of Long Drive. Police identified the victim as a MS-13 gang member suspected of being part of a rival group also affiliated with MS-13. Investigators found his burnt vehicle near a retention pound the following day.
The victim's alleged killers have been identified as Marlon A. Miranda, 19, Wilson J. Ventura-Mejia, 22, Miguel Aguilar-Ochoa, 33, and Carlos Elias Henriquez-Torres, 18. All four are in custody.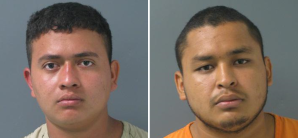 Police found the body of another MS-13 gang member in Liberty County on Aug. 6. Investigators said the victim thought he was being brought to a secluded wooded area to be punished, or "jumped out," of the gang, but instead the man was beaten to death with a baseball bat and machete by fellow gang members.
Walter Alexander Antonio Mejia and Jimmy Villalobos-Gomez were arrested in connection to the murder on Aug. 22.
Acevedo noted the arrests of several people— including a minor who can not be named— following the senseless killing of a restaurant patron in southwest Houston on Aug. 4.
"An innocent person is dead because he argued with gang members at a restaurant," Turner said.
Johnny Paramo Torres, 25, was shot multiple times in the parking lot of the La Union restaurant on Wilcrest Drive. Torres was with his brother when he got into an argument with three gang members while picking up take-out. The verbal altercation moved outside, where it escalated to gun violence.
"The victim in this case was not a gang member or an associate of any street gangs," Acevedo said. "It appears what got him the death penalty from these callous criminals was an argument, again, in a restaurant."
Police have arrested Jairo Salvador Licona-Cardenas, the alleged getaway driver Elida Lucia Jovel Medrano and a minor in connection to the shooting. The police chief said a warrant is out for the fourth suspect.
"We have taken violent gang members off the streets and we are taking back our community," Mayor Sylvester Turner said. "These gangs represent a threat to public safety. And none of us in this city, the citizens included, will not tolerate any vicious crimes or lack of respect for human life and the laws of our city."
Most recently, police are investigating the slaughtering of a teenage girl who was reported missing from the Houston area back in May. The victim's burned body was reportedly recovered Aug. 30 in the 5300 block of W. Fuqua after she had been murdered with a machete.
"The victim was not a gang member, but rather an associate of MS-13," Acevedo said.
Police have already arrested multiple suspects in the case.
Acevedo also mentioned a fifth murder case, in which MS-13 gang members are suspected of violently killing the victim in Galveston and then burying the body in Houston. The victim was recovered on Aug. 1.
"We all recognize that we have to bring a stop to this kind of violence— not just within our city, but cities across the country," Turner said.