This is an archived article and the information in the article may be outdated. Please look at the time stamp on the story to see when it was last updated.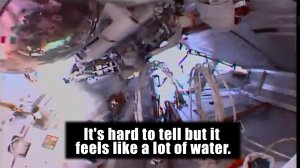 SPACE – In space no one can hear you scream, especially if your helmet is filling with water. Italian astronaut Luca Parmitano's first spacewalk was memorable, but not for the usual reasons.
Parmitano and American Chris Cassidy were less than an hour into a planned 6 hour spacewalk when Parmitano's suit sprung a leak.  At first, both thought the fluid leaking into Parmitano's helmet was from his drinking bag.  But the water kept coming.
Any water in your helmet isn't good, but in space water reacts differently by clinging like a blob. Parmitano could see, but later his hearing was affected.
Unable to diagnose the source of the leak, Mission Control terminated the spacewalk and brought Parmitano and Cassidy back inside the International Space Station where the rest of the Expedition 36 crew removed his water filled helmet and spacesuit.
NASA is still trying to track down the source of the leak.