This is an archived article and the information in the article may be outdated. Please look at the time stamp on the story to see when it was last updated.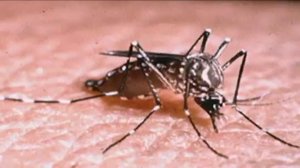 HOUSTON, TX – It's that time of the year when things that go buzz in the night come out to play.
Skeeters. The aedes aegypti; the southern house mosquito.
And the Harris County skeeter trappers say they nabbed their first bugger of the season infected with the West Nile virus..
They trapped the bad bug in northeast Harris County, zip code 77346.
That means Harris County mosquito control will be out doing evening spraying in that area, as well as the nearby areas, whenever it's not raining.
It's the female mosquito you got to look out for. They need blood to lay eggs and birds are a good source for the red stuff.
You can help keep the critters away from your neighborhood by sweeping up lawn clippings, dumping out standing water, removing debris from gutters, and fixing your screens.
You should also wear long sleeves and slather on some good insect repellent when outside.
And you probably should call the doctor if you have a high fever, stiff neck, or disorientation.
Most people with West Nile have only mild symptoms, but it can turn deadly, so just remember to stay safe out there.