This is an archived article and the information in the article may be outdated. Please look at the time stamp on the story to see when it was last updated.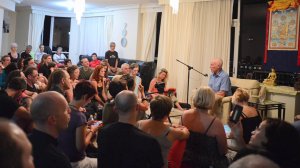 HOUSTON– When you think of Buddhism, you might think of those Tibetan monks in orange robes or the Dalai Lama. You probably don't think of a 72-year-old Danish guy like Ole Nydahl.
But for more than 40 years this lama has been schooling folks on the teachings of Buddha. He's founded more than 640 of his Diamond Way Buddhist centers around the world, including two in Houston and one in Clear Lake.
He was in town this week speaking to followers and taking part a panel discussion about death and dying, a subject he knows something about, as he claims to have experienced death firsthand and helped many others on their journey beyond this life. His most recent book is called "Fearless Death."
"If people live well, they have nothing to fear. They don't. And it's not if they stole cookies as a child or forgot something on their tax report or something like that," says the white-haired Lama, casually dressed in a short-sleeved purple plaid shirt and black microfiber zip vest. "It's like- when you really go in and try to harm people directly, that is what really counts."
And that's why Lama Oola, as he is called by many of his students, has no time for Islamic extremists. He explains, "Buddha was our friend. He told us how to live, die and be reborn better, no dogmas, no cutting off of hands and feet, no suppression of women, no holy wars. Buddha just wanted to help us. Islam — they're trying to control the world in all kinds of ways and now they're trying to make it illegal to talk about them."
Nydahl was a child of the '60s, so he's experienced drugs but says the euphoria they bring pales in comparison to true enlightenment, "No drug can bring happiness to the mind. The only thing they can do is to take the happiness we would have in a very long time, and condense it into a very short time. And then afterwards, you have a black hole there. Where the happiness should be, there is nothing."
He says he understands why young folks have turned away from Western religion and a third of all Americans under 30 don't belong to an organized faith.
"I think because a creating, punishing and whatever God is completely illogical," he says with a chuckle.
So what then is the path to true happiness?
"I think do good things and don't take things too personally," says Lama Oola.
A simple prescription it may take you several lifetimes to achieve. That is, if you believe in that sorta thing.