This is an archived article and the information in the article may be outdated. Please look at the time stamp on the story to see when it was last updated.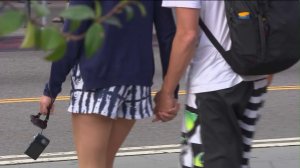 NEW YORK, NY – Men are willing to do anything for love. Van Gogh cut off his ear, King Henry VIII cut all ties with the Catholic Church and eventually Anne Boleyn's head; and many of us have had to watch episodes of "Girls" just to make our ladies happy. But it's incredible what American males are willing to give up for the perfect woman.
Yes, a Vanity Fair poll suggests 6% of men would sacrifice their own mother for the right lover. But that's a minority. 20% of men said they'd give up their religion for a hot goddess; 17% would give up their friends – what else is new? – 15% would give up their career; 12% would give up their home; and another 12% would give up ten years of their life for the perfect woman or the perfect cell mate.
OK, this poll is a true eye opener. But come on guys! What woman would choose a man with no life, no home, no career, no friends, no nothing! Get your act together once and for all or give up your hopes of finding the right woman.