This is an archived article and the information in the article may be outdated. Please look at the time stamp on the story to see when it was last updated.
HARRIS COUNTY – There's more help on the way for families working to recover following Hurricane Harvey. Friday, September 22 is the first day that residents of Harris County can apply for the Disaster Supplemental Nutritional Assistance Program, or D-SNAP.
What does D-SNAP really look like? What does it mean to #Harvey victims who are working to rebuild their homes and communities? Take a look. pic.twitter.com/ag3N5AENdl

— Texas HHSC (@TexasHHSC) September 22, 2017
What is D-SNAP?
D-SNAP is a food assistance program for families recovering from a disaster. It works much like SNAP, the federal food stamp program, but it is designed as a short term benefit for families after a natural disaster. "Typically when you think about food stamps you think that doesn't apply to me," said Texas State Representative Shawn Thierry. "This is for everyone that is currently not on food stamp assistance."
Eligible households receive one month of benefits equal to the maximum SNAP benefit allotted to a household of their size. The funds are distributed through an electronic benefits transfer card. "They will receive a Lone Star Card once they come through," said Texas Health and Human Services Commissioner Charles Smith.  "If they are deemed eligible then they will receive a card and when they have that card within three days we will load the benefits on that card and they will then be able to take that card to any food retailer, grocery store, those type of things that are able to accept SNAP benefits."
Who is eligible for the program?
The program is open to families in the counties that have been declared a federal disaster area. In addition, applicants must have experienced a loss of income, damage to a primary residence, or suffered a disaster-related expense. Families already receiving SNAP benefits at the time of the disaster are not eligible for D-SNAP, but they can request a supplement to their existing benefits. That supplement would temporarily increase their benefits to the maximum level for their household size.
There are income limits for the D-SNAP program, however, a lot of non-reimbursable Harvey-related spending such as medical bills, evacuation costs, and storage fees are deductible. The chart below lays out the maximum income limits for families. The D-SNAP Net Income Limit is the maximum monthly income for a family after all deductions.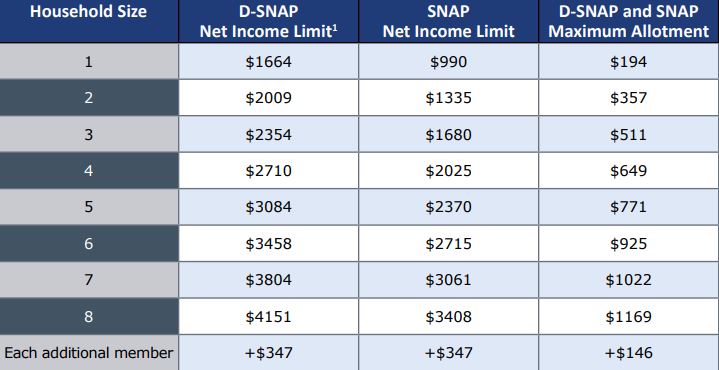 How to apply
The only way to apply for the D-SNAP program is in-person. Families must bring proof of identity, such as a driver's license or other form of identification issued by the government to a designated D-SNAP location to apply for the program. Displaced families may apply at any local Health and Human Services benefit office across the state during the application period for their home county.
The application period for Harris County is open from September 22 through October 5, but when your family can apply depends on the first letter of your last name.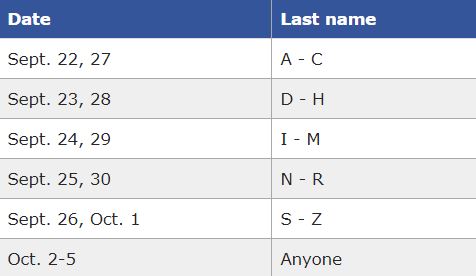 There are three D-SNAP locations open in Harris County. They are open from 8:00 a.m. until 7:00 p.m. each day.
Greenspoint Mall
12300 North Fwy
Houston, TX 77060
Southwest Multi-Service Center
6400 High Star
Houston, TX 77074
Pasadena Convention Center
7902 Fairmont
Pasadena, TX 77505
More great pics from Greenspoint Mall D-SNAP site in Houston. Line is moving fast and workers are ready to help. #Harvey pic.twitter.com/7ZeRmMsy0m

— Texas HHSC (@TexasHHSC) September 22, 2017
Good morning. We are here! HHS staff happy and ready to start processing D-SNAP applications for people at Greenspoint Mall in Houston. pic.twitter.com/QdiDtDfAUj

— Texas HHSC (@TexasHHSC) September 22, 2017
The D-SNAP team in #Pasadena is processing applications and getting Texans in and out within 15 minutes. Great work. #Harvey pic.twitter.com/UaOyoowAfv

— Texas HHSC (@TexasHHSC) September 22, 2017