This is an archived article and the information in the article may be outdated. Please look at the time stamp on the story to see when it was last updated.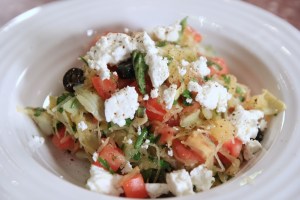 This radiant dish packs a punch of flavor that won't knock you out with weightiness and fatigue. It is wholesome, healthy, vibrant and delicious!
Ingredients
1 medium spaghetti squash
2 ¼ oz. can sliced black olives
1 cup artichoke hearts, chopped
¼ cup chopped basil
½ cup chopped parsley
3 tbsp extra virgin olive oil
Salt and pepper to taste
1 cup fresh feta cheese, crumbled or chopped
3 tomatoes, chopped
Instructions
Preheat oven to 375F.
Slice the squash in half lengthwise. Scoop out the seeds, and place it cut-side down on a foil-lined baking sheet. Bake for 35-45 minutes. Once cool, remove and discard the skin. Scoop the spaghetti-like flesh into a large bowl.
Add the remaining ingredients, except the feta and toss well. Gently stir in the feta.
Note: When I serve this as a main dish, I like it hot. To try it this way, simply combine the ingredients in a pot, and gently warm the mixture. Again, top each serving with feta cheese.
Serves 4-6.