This is an archived article and the information in the article may be outdated. Please look at the time stamp on the story to see when it was last updated.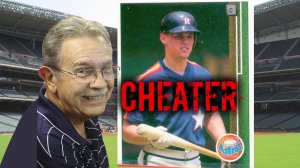 CINCINNATI, OH – Craig Biggio is a cheater – at least that's what Jerry Dowling of Cincinnati, Ohio says.
Dowling isn't a baseball writer he's a sports cartoonist; but for some reason he gets to vote on who should get in to Cooperstown. On his website Dowling boasts "he refuses to vote for a guy who cheats, as Biggio did with all that armor on his arm, so he could get hit with pitches and trot to first base as a result. He made no attempt to avoid getting hit and actually stuck that arm out further inducing the ball to smack him."
No doubt being plunked by a pitch was part of Biggio's game. In addition to his 3,060, the 7 time All-Star was thumped a Major League leading 285 times. That's not illegal though it's just part of the game; but maybe the cartoonist didn't know that.
To further illustrate what an idiot he is, Dowling voted for Mark McGwire and Barry Bonds – two alleged cheaters who also wore the same type armor as Bidge.
Too bad Dowling isn't a zombie; because we know what Biggio does to zombies. If you don't, click here.