This is an archived article and the information in the article may be outdated. Please look at the time stamp on the story to see when it was last updated.
PHOENIX, AZ -  The wife of Miami Dolphins cornerback Brent Grimes is calling out the league, saying it is "The sh*tiest, shadiest, disrespectful professional sport in the world." Miko Grimes went on a long twitter rant about the NFL immediately following her husband playing in the Pro Bowl.
It started after she felt her husband was punished by the league for missing scheduled appearances at the Pro Bowl so he could be by her side while she had emergency surgery. Miko thinks her husband was snubbed and should have got the game MVP over Texan JJ Watt. She tweeted, "Him missing practice made you guys take the MVP from him?" Then her rant moved into other topics, like domestic violence in the league, saying, "We all know you don't [give a f**k] about women..."
Her tweets continued:
"I have friends that were beaten, thrown down stairs while pregnant, guys arrested & the NFL suspended them 1 f***ing game."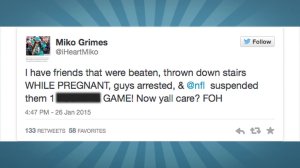 "The NFL only gives a f**k about themselves!"
"They [only] care about money!!!"
So there you have it from an inside source. Remember the NFL is a billion-dollar organization. And money rules.