This is an archived article and the information in the article may be outdated. Please look at the time stamp on the story to see when it was last updated.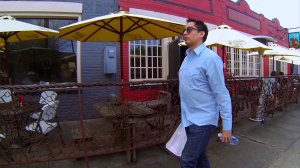 HOUSTON, TX- Houston's a city of contradictions. Look at the roads, Harris County's got more registered vehicles than people old enough to drive them. And yet, a recent survey by Rice University's Kinder Institute for Urban Research found more than half of us would rather live in a smaller home within walking distance of where we work and shop, than have a big house and yard and be forced to drive everywhere.
It's called "walkable urbanism."  Dr. Stephen Klineberg with the Kinder Institute says there are two key requirements for it to happen, "One is that it's safe to walk, and two is that there places to walk to…. that you're within walking distance of places that you need to go like shops, workplaces and restaurants."
Houston drivers sit in traffic more than 50 hours a year, according to a 2011 Texas A&M study, so their wanting to get out from behind the wheel is no surprise. Will that mean more of us moving to live near the expanding Metro light rail lines? Or will the city focus on improving street safety for folks on bicycles? We'll have to wait and see.
For a fascinating look at the future of transit in our city, check out this month's Houstonia magazine.