This is an archived article and the information in the article may be outdated. Please look at the time stamp on the story to see when it was last updated.
MOBILE, Alab. - Police are investigating a graphic arrest video which went viral overnight. This video shows officers arresting Chikesia Clemons, a 25-year-old black woman, at an Alabama Waffle House Sunday morning. Clemons was forced to the floor by three officers, her clothes coming off as police wrestled turning her over to arrest her.
Her mother is outraged by the way cops handled her daughter. "What I want actually is to get justice for my daughter in this case. I don't feel that she was treated fairly. I think the things that were showed were very impulsive not only to me as a woman but to my child," said Chaketa Clemons-Howard.
At one point an officer puts his hands around her neck while another pulls out a stun gun. "Then they had her on the dirty floor with a gun to her head. That's not how you treat our children. Injustice to one is injustice to all. We have to stop spending our money where people don't want our services at, where they don't want our business at I mean," said family friend, Shemeca Crawford.
After the video went viral the Saraland Police Department said "The situation is being thoroughly reviewed and is under active investigation right now. Our department strives for transparency and we encourage our community to be aware of current events."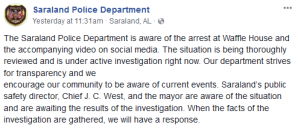 Now the community wants answers. On Sunday locals held a protest inside of Waffle House. The protest took a quick turn for the worse when police arrived, they ended up arresting one person which added more fuel to the fire. "I'm angry yes, because it keeps happening," said one protestor.  "I'm just black. I'm not a threat. I'm black, I'm not a threat," added a protestor.
Waffle House released a statement Monday saying, "After reviewing our security video of the incident and eye witness accounts, police intervention was appropriate."
— Waffle House News (@WaffleHouseNews) April 23, 2018
Justice would be nice to see on the menu!