Woman takes a hockey puck to the face at Stanley Cup finals
This is an archived article and the information in the article may be outdated. Please look at the time stamp on the story to see when it was last updated.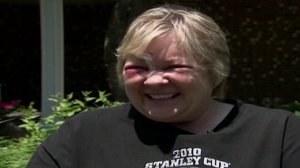 CHICAGO, IL – A Chicago woman is recovering after getting hit in the face with a hockey puck.
Dr. Patricia Higgins was injured at a finals game between the Blackhawks and the Bruins when the puck flew into the stands.
Higgins, who had to have surgery after the slap shot, said she's not blaming anyone for the accident but she is upset that the game went into triple overtime, saying "they should've scored instead of hitting me."