This is an archived article and the information in the article may be outdated. Please look at the time stamp on the story to see when it was last updated.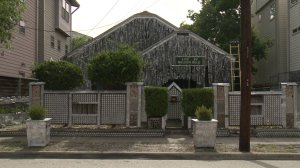 HOUSTON, TX – Houston… we have a landmark. Seems like some national media outlets have recently discovered,
A local tourist attraction that some Houstonians have been buzzing about for years — the Houston Beer Can House!
John Milkovisch collected beer cans for twenty years and then got the notion to start covering his house with the cans. The house might give proof to the meaning, one man's trash is another man's treasure, but this treasure is becoming famous nationwide.
Mr. Milkovisch brewed up the idea of turning his home into a beer palace in 1968. His project proved that not only was he very thirsty, but also very green. He claimed the cans lowered his energy bills.
The 50,000 recycled cans that adorn the home fell into disrepair shorty after Milkovisch passed away in 1988. But in 2001, the Orange Show Center For Visionary Arts purchased the Beer Can House and restored it. Now people from all over can marvel at Milkovisch's vision.
It's only two bucks to check it out and the doors are open from Wednesday to Sundays from 10am to 2pm during the summer. We'll drink to that!