This is an archived article and the information in the article may be outdated. Please look at the time stamp on the story to see when it was last updated.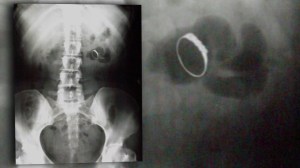 MANCHESTER, NH – Trying to pick that perfect engagement ring can be a tough choice. Heck, trying to figure out where to eat for lunch when you're starving can be a tough choice, too. But 52-year-old Ronald Perley killed two birds with one stone.
Ronald went into Bellman's Jewelry Shop in Manchester, New Hampshire asking to see engagement rings. But when he was handed one, he made a run for it, only to realize he had been locked in. So he decided to eat the evidence. He put the $3,200 ring in his mouth and swallowed it.
The store worker called police and they came and arrested Ronald. They had to ask a judge for a search warrant so they could x-ray Ronald. But they didn't have to wait too long because 24 hours later, nature took its course. The ring came out of him, even with the price tag still on.
The jewelry store says they won't be re-selling it. They're going to auction it off for charity instead.
But with such a beautiful ring, you can only imagine that if someone did propose with it, it'd be hard not to say 'I do-do.'