This is an archived article and the information in the article may be outdated. Please look at the time stamp on the story to see when it was last updated.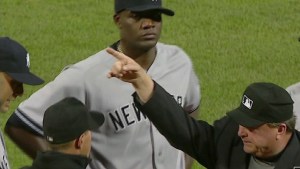 NEW YORK, NY – Sport superstars are supposed to serve as role models, but these athletes have been caught behaving badly on and off the field.
Yankees' ace pitcher, Michael Pineda was ejected from a game against the Red Sox Wednesday after the umpire spotted pine tar on his neck. That's a big no-no in America's favorite pastime.
After Pineda pitched a horrible first inning, someone spotted the suspicious sticky substance. But when he started striking batters out, the umpire outed him and the Yankees suspended him for ten games.
Think that's bad? It gets worse.
This week former MMA fighter, Homer "The Rock" Moore is getting a beat down of his own. He's been charged with first degree murder. He's accused of killing a 19-year-old teen in 1999 after a drug deal went wrong.
The Patriots' Aaron Hernandez is in a similar situation. He's been in jail for almost a year, accused of being involved in a murder case. He's now accused of threatening to kill a guard and shoot his family.
It doesn't look like these disgraced superstars will be back in the game anytime soon.