This is an archived article and the information in the article may be outdated. Please look at the time stamp on the story to see when it was last updated.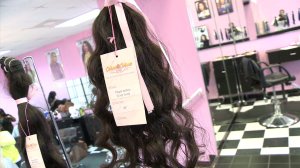 MARIETTA, GA – It was a hairy situation for salon owners in Marietta, Georgia. Weave thieves crashed a stolen car through the front door of the L.A. Beauty Supply and made off with tens of thousands of dollars' worth of hair extensions.
And while that may seem like a lot of effort for a little hair, those in the business aren't surprised.
"Everyone wears hair extensions," says Joilin Venison, "Caucasians, Latin people, African-Americans, rich, poor, middle-class, everyone wears it; it's the thing to do."
Joilin and her husband own Super Weave Express on Fountain View. Last year burglars used a sledge-hammer to get to their inventory.
"There is a high demand for hair. A lot of people want to pay cheaper prices for the hair, so that causes break-ins, people trying to take the hair and sell it at a cheaper price."
Virgin Indian hair is among the rarest and most expensive, selling for hundreds of dollars per bundle. And no, it doesn't come from virgins. It's real, human hair that comes from a single donor and is able to be colored and styled. And thieves are proving they'll do almost anything to get their hands on it.
"At our other salon, we've actually had to make posts in front of the salon so no one can drive through our salon," Joilin says. "We have security gates, we have security cameras, we have ADT, we have a personal security guard on site at all times just to make sure no one comes in here and takes our inventory."
A hell of a price to pay for a little bit of hair. Makes you wonder, what ever happened to just growing it out the old-fashioned way?