This is an archived article and the information in the article may be outdated. Please look at the time stamp on the story to see when it was last updated.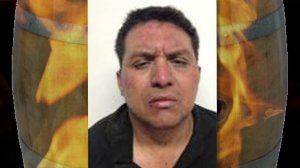 NUEVO LAREDO, MEXICO – The streets of Mexico just got a little safer. One of Mexico`s most feared and possibly cruelest drug cartel leaders is in police custody.
The Zeta's ring leader Miguel Angel Trevino Morales, aka Z-40, was captured by Mexican marines when a helicopter swooped down and managed to stop his pickup truck in its tracks. Two other people were also captured. Officials believe they may be the gang's accountant and a bodyguard. This all went down near Nuevo Laredo, by the Texas border. A little too close for comfort, huh?
Mexican authorities say Morales had around $2 million dollars, eight weapons, and hundreds of ammo cartridges with him when he was captured.
He's accused of the ordering the kidnapping and killing of hundreds of migrants, and is facing charges for organized crime, homicide, torture and money laundering.
For a man who would allegedly kill his victims by burning them alive in barrels, a method called "the stew," it looks like Z-40 will be the one stewing in police custody.