This is an archived article and the information in the article may be outdated. Please look at the time stamp on the story to see when it was last updated.
HOUSTON — Houston rapper Chamillionaire dropped two major announcements Tuesday morning as he continues to help Texas get back on its feet following the devastating aftermath of Hurricane Harvey. The artist has started a non-profit organization benefiting relief efforts and has formed a partnership with one of the most charitable names in Houston, Mattress Mack.
After several days of relief work including driving water and supplies to some of our hardest hit areas like Beaumont, Orange and Port Arthur and seeing not only the devastation but in many cases, the complete lack of basic needs, Cham felt the call to do more. This was the inspiration behind the Robin's Heart Foundation, Chamillionaire's newly formed charity, for monetary donations.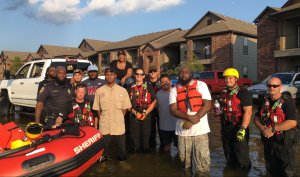 "Just like so many other people out there, I don't want to sit on the sidelines, I want to do the most that I can to help," the artist said.
As a show of good faith, Chamillionaire has donated the first $25,000 and he promises that every single penny of the money raised will go towards helping those in need with zero administrative fees.
"I will be investing a lot of my own personal time and money to help, but there are so many people impacted by the flooding that I can't help feeling like I need to try my best to do more."  He added. "I'm sure there are plenty of other campaigns that will do great things for the people who have been impacted by Hurricane Harvey, but I want to focus on a lot of the families and areas that I feel have been extremely overlooked."
Those that prefer to donate goods can ship or take them directly to Gallery Furniture at 6006 North Freeway and Mattress Mack and his team.
For more information on the items most needed and to read Chamillionaire's declaration of transparency, go to his website at Chamillionaire.com 
https://www.instagram.com/p/BYtTfW7AWku/?taken-by=cw39houston