This is an archived article and the information in the article may be outdated. Please look at the time stamp on the story to see when it was last updated.
HOUSTON — When Hurricane Harvey ravaged Houston in 2017, many residents lost everything, including their beloved pets. Hundreds of animals that were lost, abandoned or homeless in the weeks following the storm.  Joy Sewing became the go-to Houston Chronicle reporter for "animal rescue and reunion" coverage.
"I've never cried on assignment but to hear a little girl call out for her dog over and over as she looked frantically through rows of cages brought me to tears," she said. "To lose your home in a flood is horrific, then to lose your dog? It was simply heart breaking."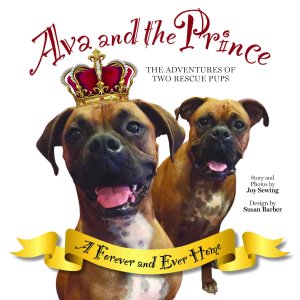 Joy has a soft heart for shelter animals with two adopted boxers of her own. She advocates for animal-rescue efforts, giving voice to the voiceless in a city with a persistent homeless canine population. In October, in time for Adopt-A-Shelter-Dog month, Joy has penned her first children's book, "Ava and the Prince: The Adventures of Two Rescue Pups" (LongTale; On Sale October 1, 2018, $15.95; ages 3-8). It's a celebration of rescue dogs everywhere. A portion of the book sales will go to animal-rescue efforts.
The Barbara Bush Houston Literacy Foundation has selected this book for its Home Portal Program for students in the Houston Independent School District. Also, the Junior League of The Woodlands has purchased nearly 400 of the books for its Literacy Carnival in October for Aldine Independent School District students.
CLICK HERE FOR LINK TO BUY BOOK.
Upcoming book tour dates:
Oct. 6              Blue Willow Bookshop, 14532 Memorial Dr. Houston (benefitting Lone Star Boxer Rescue)
Oct. 13            Brazos Bookstore, 2421 Bissonnet, Houston
Oct. 20            Junior League of The Woodlands Literacy Carnival, Aldine Hope Community Center
Nov. 11           Neiman Marcus Children's Fashion Show and Book Signing, Galleria
Dec. 15           LAUNCH Houston, 701 Avenida de las Americas
About the book:
Ava, formerly "Foxy," is given up by her family because she's too energetic. Prince, formerly "Sam," is  found abandoned and alone. They have a lot in common. Both like to play, roll in the grass, dress in   costumes and eat shoes. In their new home, there are a few house rules. It'll take patience and love,    as Ava and Prince find a special place in the heart of a lady who smells like lemons and gumdrops.
About the author and designer:
Joy Sewing is an award-winning journalist and fashion editor  for the Houston Chronicle. She's also host of The Joyful Life Radio Show. She lives in Houston with Ava and Prince. The book is part of her Year of Joy campaign to spread
 joy around the world.
 Susan Barber has won numerous awards as the creative director for the Houston Chronicle. A native of Alaska, Susan also lives in Houston with her furry kids, Rocky and Chantilly Tiara Jabot, and spends as much time as she can with her adorable granddaughter, Skylar.