This is an archived article and the information in the article may be outdated. Please look at the time stamp on the story to see when it was last updated.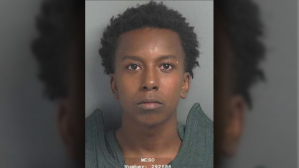 SPRING, Texas — The local teen accused of killing his step-brother in an accidental shooting at an apartment in Spring has been arrested and charged with tampering with evidence, the Montgomery County Sheriff's Office said.
Sheriffs deputies were called to The Farrington apartment complex in the 800 block of Rayford Road about 6:30 p.m. Wednesday. Investigators said step-brothers Romaz Craddock and Justice Forney, both 17, were visiting a friend's house when the shooting happened.
Forney is accused of bringing the gun to the apartment. The weapon had been reported stolen through the Harris County Sheriff's Office, deputies said.
The suspect was handling the gun while his sibling was in the restroom, deputies said. While he was handling the firearm, it went off. A bullet went through the bathroom door and hit Craddock in the torso.
The victim was taken to Memorial Hermann in The Woodlands in critical condition. He succumbed to his injuries the following morning, deputies confirmed.
Investigators said Forney cooperated with detectives during questioning. However, the teen is facing charges because deputies said he hid the gun in a nearby dumpster after the incident.
MCSO and the Montgomery County District Attorney's Office are still investigating the shooting.
.@MCTXSheriff says the 17-yr-old shot by his brother has passed away. His brother, also 17, has been arrested for tampering with evidence & officials say more charges may be filed. @CW39Houston pic.twitter.com/AjRObMgzsU

— Courtney Carpenter (@CourtneyCW39) September 26, 2019