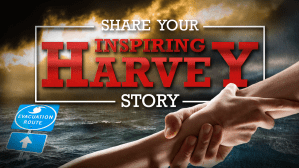 We're inviting the Houston community to share inspiring Hurricane Harvey stories that unite, heal and empower us all. Whether you would like to share your journey to a new home, recall a triumphant rescue or detail the positive impact an individual had on your life during these devastating events, please fill out the following form.
We may share your story with others!
A representative of the CW39 Houston or Morning Dose may contact you with a request for visual materials (i.e. photos, video, etc.), with follow-up questions or to set up an on-camera interview.
Please Note: Submitting your story through this form gives CW39 Houston permission to broadcast your submission on-air and the CW39 Houston digital platforms including the station website, social media and others venues.