This is an archived article and the information in the article may be outdated. Please look at the time stamp on the story to see when it was last updated.
HOUSTON — The Houston Astros are down two straight games after a devastating 8-2 lost to the Boston Red Sox during Game 3 of the American League Champion Series, but the postseason is far from over!
"We don't have to worry about being down or being up," Astros Head Coach A.J. Hinch said. "It takes four wins to win this series— they know that, we know that."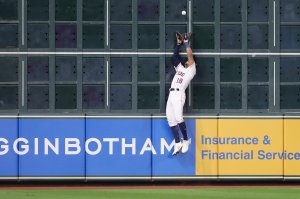 Despite the lost, the Astros had more than a few impressive moments including an outstanding third-inning catch by outfielder Tony Kemp in front of the left field scoreboard.
"That's about as high as I've seen him jump," Hinch said. "We've seen some acrobatic catches out of him in left field and center field when he's been out there. At the time, it's a game changer."
Jose Altuve pushed through as the team's designated hitter despite an aggravated right knee, which continues to be a noticeable hindrance to the reigning AL MVP.
"[Altuve] is a perfect example to anyone who watches baseball about how to compete in play," Hinch said. "I have no doubt he's going to post tomorrow. Maybe they're going to DH him or play him at second, but he's leaving it all out there."
Watch as we address the media after tonight's ALCS Game 3. https://t.co/nDFyosS7Ry

— Houston Astros (@astros) October 17, 2018
"We caught the ball. We played really good defense. We made some really great plays," Hinch said. "It's a 3-2 ball game until all hell broke lose in the eighth inning."
Red Sox center fielder Jackie Bradley Jr. hit a grand slam in the eighth, cementing the team's victory over the Astros.
Both teams are back Wednesday night at Minute Maid stadium for Game 4 of the series. First pitch is at 7:39 p.m.
This slideshow requires JavaScript.