This is an archived article and the information in the article may be outdated. Please look at the time stamp on the story to see when it was last updated.
HARRIS COUNTY, Texas — The Harris County Sheriff's Office has released  the mugshots of four out of five detention officers charged after an inmate was brutally beaten. On Friday, deputies also announced the recent firing of two of the indicted officers.
Jeremy Ringle, Joshua Degler, Napoleon Harmon and Andrew Rowell are charged with aggravated assault by a public servant, a first-degree felony. If convicted, the four of them could face up to 99 years in prison.
This slideshow requires JavaScript.
A fifth detention officer, Salvador Garibay, was indicted for misdemeanor assault. He could be punished with up to one year in jail and a fine of up to $4,000. The sheriff's office did not release a mugshot for Garibay.
The officers crossed the line when it comes to the use of force, Harris County District Attorney Kim Ogg said. All five officers have since been fired.
"They caused severe injury to an inmate who needed screws, stitches and a plate to reconstruct his face and a shattered eye socket," Ogg said.
The alleged assault of inmate Jerome Bartee, 29, was caught on a jail security camera on Sept. 4, 2016, according to investigators.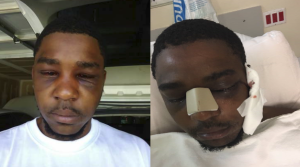 "The evidence shows that Jerome Bartee exchanged words with some detention officers," said Assistant District Attorney Jules Johnson of the Civil Rights Division. "He was yanked to the ground by a number of sheriff's office employees and beaten to the point he was unrecognizable."
At the time, the detention officers claimed Bartee initiated the confrontation and new charges were filed against the inmate.
Three days later, prosecutors said Bartee returned to Ben Taub Hospital for further medical treatment after being released from jail. The assault charges against Bartee were dismissed due to lack of evidence and the release of the security footage, according to court documents.
Bartee underwent more than four hours of surgery to repair fractures in his nose and to have a metal plate implanted in place of a fractured left orbit on Sept. 28. According to his attorney, Bartee did not receive adequate medical care initially while in jail.
Garibay and Rowell were relieved of duty by former Sheriff Ron Hickman after he determined the officers used excessive force. Ringle was terminated in February 2017 following an unrelated use-of-force investigation related to a July 2016 incident.
Officers Joshua Degler and Napoleon Harmon were fired in December 2017.
"I agree with former Sheriff Hickman's determination that the use of force in this 2016 case was uncalled for, and that this incident represents a failure to uphold our duty to the people of Harris County," said Sheriff Ed Gonzalez. "These actions are not representative of the Harris County Sheriff's Office and the values that we strive to uphold. Our administration will continue with ongoing efforts to emphasize de-escalation techniques and other training for all personnel that aims to minimize the need for physical force to maintain order in the jail."
These actions are not representative of @HCSOTexas and the values we strive to uphold. We will continue with ongoing efforts to emphasize de-escalation techniques & other training for all personnel that aims to minimize the need for physical force to maintain order in the jail.

— Ed Gonzalez (@SheriffEd_HCSO) December 5, 2017
Following the grand jury's decision, warrants were issued for the arrest of each defendant. They are expected to surrender, secure release on bond and be assigned dates to appear in court.
"These cases will proceed like any other criminal cases in Harris County," Johnson said.
Bartee's attorney, Donald Kidd, is speaking out about the case.
"This incident is just a bright indication of the custom and the pattern of practice of the excessive use of force that has been persistent in the Harris County Jail for over a decade," Kidd said.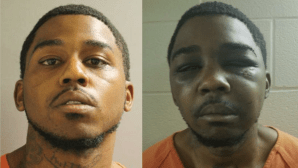 Bartee's injuries from the brutal beating are hard to hear. "He had to undergo reconstructive surgery in his face, where they put a plate and screws underneath it to lift his eye socket back up," Kidd explained.
But many wonder why did it take Harris County officials well over a year to finally take action for the beating, especially since there was video evidence of the ugly incident?
"Well, there's a lot behind the scenes at the Harris County Jail that the public doesn't know about," Kidd suggested.
Stay connected! Download the CW39 NewsFix app for iOS or Android devices and the CW39 Weather app for iOS or Android devices.