This is an archived article and the information in the article may be outdated. Please look at the time stamp on the story to see when it was last updated.
BAYTOWN, Texas — A man has been charged in the death of Nataliya Shal, whose body was found  lying on the floor of her Baytown apartment on Mother's Day 2016. The case went cold for nearly a year and a half until forensic evidence, much like that seen on a CSI television show, helped lead investigators to her alleged killer.
Byron Lloyd Collins, 29,  has been charged with capital murder.
On May 8, 2016, Baytown police were dispatched to Shal's home  at The Lakes of Madera Apartments in the 300 block of Baker Road for a welfare check after her husband, David Englerth, grew concerned after not hearing from her. Englerth was a truck driver and was on the road traveling.
The officer who arrived to the scene looked through the window and saw Shal lying on the floor. The officer then forced entry, but the 50-year-old woman was dead. According to police, she had been sexually assaulted and stabbed at least 30 times.
A witness provided police with a sketch of a man who had been seen near her apartment earlier in the day and that sketch was pushed out to the public in October 2016, but no suspect was identified until earlier this month.
[protected-iframe id="b7ee46bc4080be29893ca9ec7aaf62b3-40471470-105026151″ info="https://www.facebook.com/plugins/video.php?href=https%3A%2F%2Fwww.facebook.com%2Fcw39houston%2Fvideos%2F1692108384144618%2F&show_text=0&width=560″ width="560″ height="315″ frameborder="0″ style="border: none; overflow: hidden;" scrolling="no"]
The Baytown Police Department and the Harris County District Attorney's Office held a joint press conference Wednesday releasing details about what led them to Collins. The methods used shows how far science has come and its role in crime solving.
A familial DNA search is a search by law enforcement in DNA databases for genetic information indicating a relative of a person they seek to identify.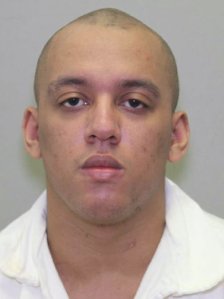 Lt. Steve Dorris, of the Baytown PD Criminal Investigations Division,  explained that Collins has a brother — Travis Collins — who is currently incarcerated at the Texas Department of Criminal Justice and the brother's DNA helped them track down the alleged killer.
"This is one of those kind of cases where all the pieces of the puzzle kind of fall together; the prosecutorial side, the police side, the science side," Dorris said. "I can not stress enough, it's not just the Baytown Police Department that clears these cases. From the very beginning, we are partnering with the DA's Office, who gives us guidance and direction on the legal matters, and the crime labs who are doing all the scientific side of things, testing these very small pieces of evidence."
Assembling the puzzle pieces
"Kind of the way this came about, we had been working this case for some time and the first part of this year, a homicide investigator actually went to a training session with the CODIS lab. And during that training session, they started talking about Familial DNA," Dorris explained. "A theory was posed if that we ever had a case that met this certain criteria, would we be interested in looking at it? And it just so happened that one of my guys in the training session said 'I think we've got a case.'"
CODIS is the acronym for the Combined DNA Index System and is the generic term used to describe the FBI's program of support for criminal justice DNA databases as well as the software used to run these databases.
DNA evidence collected at the scene of the crime was sent off and a connection was made.
"In June of this year, we submitted that same DNA evidence to the DPS CODIS lab to have it tested for any familial links to persons currently in custody," Dorris explained.
As a result of that testing, on Nov. 28, detectives were able to identify Collins as a person of interest.
"Once we figured out who a family match was we started the process of elimination and looking at who a potential suspect may be and came up with Byron Collins," Dorris said.
While conducting surveillance on Collins, detectives were able to get a sample of his DNA — a cigarette butt —  which was sent to the Harris County Institute of Forensic Science and compared to the DNA evidence collected at the crime scene.
The lab confirmed a positive match on Dec. 18.
On the evening of Dec. 22, authorities picked up Collins at the same apartment complex where the murder happened and took him in for questioning.  He was interviewed for several hours and charges were filed shortly after.
"What I will tell you about it is that he did not outright confess to the crime," Dorris said. "Sometimes it's not what they say, it's what they don't say. Sometimes it's not always what they do, it's what they don't do."
Investigators said Collins does not have any violent offenses listed on his past criminal record, only misdemeanors.
"As far as what the motive was, why he wound up there, why he did what he did, we just don't know," Dorris said.
Good, basic detective work
"What I want our public to know and understand is that we got a killer off the streets. They can sleep a little bit better tonight. We get these cases and we don't stop. We work them until we can't work them anymore, and we take a breath and start working them again," Dorris said.
He recalled the moment he gave the news to Shal's husband that a suspect was in custody.
"Again, from a human perspective, I had five or six different detectives sitting in a room with me when that phone call was made and after we got off the phone with him, I don't think there was a dry eye in the room," Dorris said.
Shal's husband, Dorris expressed, was "extremely gracious and grateful."
"One of the things he did tell us is that it was the best Christmas present that he could have asked for," Dorris said.
Collins is currently being held in the Harris County Jail without bond.