This is an archived article and the information in the article may be outdated. Please look at the time stamp on the story to see when it was last updated.
HOUSTON—  Harris County Precinct One Constable Alan Rosen and the American Red Cross announced that multiple warming centers are being opened throughout Houston Tuesday due to the freezing weather temperatures.
The city will also be offering transportation to those needing relief from the winter storm.
The centers will open at 10 a.m. and will remain open until further notice. Those in need of transportation are asked to call the 311 helpline.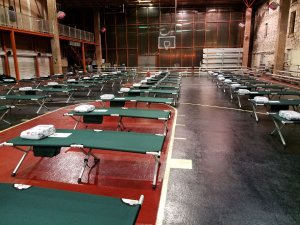 List of warming centers:
Pleasant Grove Missionary Baptist Church at 2801 Conti Street
Houston Sobering Center at 150 N. Chenevert St.
South Main Baptist Church at 4100 S. Main St.
Sally's House at 1717 Congress
Star of Hope at 1811 Ruiz
Warming centers are now open. Persons needing transport should call 311:

Houston Sobering Center
150 N. Chenevert St., Houston TX 77002

South Main Baptist Church
4100 S. Main St., Houston TX 77002

Pleasant Grove Missionary Baptist Church
2801 Conti St., Houston, TX 77020

— Chief Art Acevedo (@ArtAcevedo) January 16, 2018
.@houstonpolice Chief @ArtAcevedo Asst. Chief @SatterwhiteLJ and @FireChiefofHFD out at #homeless encampments encouraging the homeless to allow HPD HOT teams to take them to warming centers #houwx #houstonweather pic.twitter.com/bmKM62Q0qy

— Meli Mel (@MelissaLovesHOU) January 16, 2018