This is an archived article and the information in the article may be outdated. Please look at the time stamp on the story to see when it was last updated.
HOUSTON – A bank of Buffalo Bayou has collapsed resulting in a sanitary sewer pipe spill.
According to Houston Public Works the affected area is near 9602 Longmont and  includes Buffalo Bayou and at least 300 feet downstream.
The estimated volume of released wastewater is greater than 300,000 gallons.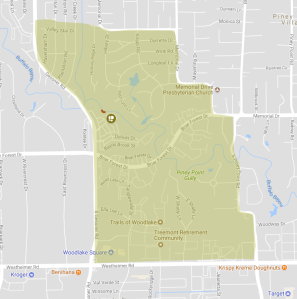 TCEQ requires this mandatory notification of the information below:
Persons using private drinking water supply wells located within ½-mile of the spill site or within the potentially affected area should use only water that has been distilled or boiled at a rolling boil for at least one minute for all personal uses including drinking, cooking, bathing, and tooth brushing.
Individuals with private water wells should have their well water tested and disinfected, if necessary, prior to discontinuing distillation or boiling.
Persons who purchase water from a public water supply may contact their water supply distributor to determine if the water is safe for personal use.
The public should avoid contact with waste material, soil, or water in the area potentially affected by the spill. Do not swim in affected areas.
If the public comes into contact with waste material, soil, or water potentially affected by the spill, they should bathe and wash clothes thoroughly as soon as possible.