This is an archived article and the information in the article may be outdated. Please look at the time stamp on the story to see when it was last updated.
HOUSTON– Community leaders will host a "Hands Off Al Green" press conference demanding that law enforcement use every resource available to hunt down those responsible for racist threats towards Congressman Al Green.
"We are here to show our support and solidarity for congressman Al Green," said Community Activist Deric Muhammad at Thursday's press conference.
In a recent voicemail, death threats can be heard in response to Congressman Green's call for the impeachment of President Donald Trump.
Several voicemails were left, but the most disturbing, is what sounds to be the voice of a man threatening the life of Congressman Al Green and fellow African Americans.
"Hey, Al Green, we've got an impeachment for ya—It's going to be yours. Actually going to give you a short trial before we hang your ni***r a**."  – "You ain't gonna impeach nobody, you f****' ni***r. Try it and we'll lynch all you f****' ni**ers. You'll be hanging from a tree. I didn't see anybody calling to impeach your ni***r Obama. He was born in Kenya. He's not even an American."
"Unfortunately we live in a country that when a black man stands up for the poor and needy he is judged differently," Muhammad said. Why is nothing being done by anyone to find the person who has made these death threats. To the white supremacist out there, you may have a desire to go back to 1820 but we ain't goin with ya."
This press conference comes just one day after neighbors along 27th street in Texas City were alarmed to find fliers in their driveways advertising KKK recruitment. Each flier was sealed in a plastic bag along with a few pieces of candy.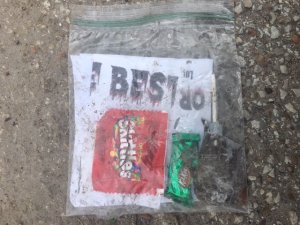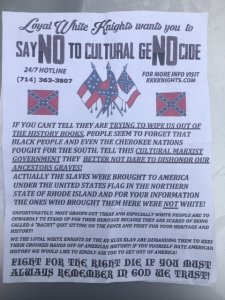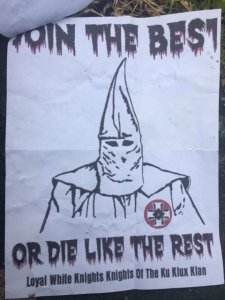 "We're going to stand here calling on law enforcement to do their due diligence. We can speak out for those who can't. I call on our other elected officials to do just that," said State Representative Ron Reynolds.