This is an archived article and the information in the article may be outdated. Please look at the time stamp on the story to see when it was last updated.
HOUSTON - Harvey floodwaters were ruthless, and heroes were in no short supply.
But an email sent out to Houston Firefighters is drawing scrutiny onto the administration's decision not to recall additional shifts to come on duty.
The email read: "Firefighters who are not scheduled to work are asked to refrain from coming into the station unless otherwise notified by HFD Command."
"When 12,000 members of the National Guard are recalled, and the Houston Firefighters have still not been recalled, that's a difficult situation," explained Marty Lancton, President of the Houston Professional Firefighters Association.
What exactly is a "recall?"
"In a partial or a full recall, is to take , we have four shifts --  A, B, C, and D -- and if you were going to do a recall, you can recall another shift so that you have two shifts on duty, so if you were to have A and B shift on duty, so you have double the number of the people you would ordinarily have to prepare in the event of a hurricane or an emergency," Lancton explained.
Many of Houston's beloved civil servants ignored that email, and rushed to help save countless lives in what may be the worst flooding disaster to ever hit this region.
"There was no planning ahead of this there was no 'lets man the stations, let's provide rests for the crews cause we knew at minimum this was going to be a significant natural disaster, and what we saw of course was catastrophic," said Lancton.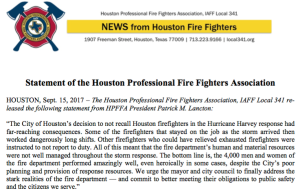 We reached out for comment from the Houston Fire Department, but didn't receive a response in time for broadcast. We will keep this story updated with any additional comment.