This is an archived article and the information in the article may be outdated. Please look at the time stamp on the story to see when it was last updated.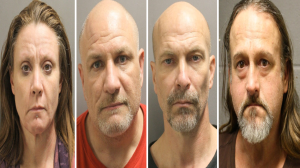 SPRING, Texas — At least four people have been arrested after numerous drugs were seized from a home in the Spring area over the weekend, the Harris County Pct. 4 Constable's Office confirmed.
A special operations unit raided the home in the 19200 block of Lockridge Drive in the North Hills Estates subdivision on Saturday. Investigators became suspicious of the house after drugs were found during several traffic stops in the area, the constable's office said.
The suspects, who were inside the residence at the time of the raid, have been identified as Buford Bjorklund, 47, Whitney Enquist, 46, Joshua Jones, 44, and Michael Wagner, 46.
All four of them are charged with possession of a controlled substance. The constable's office said the group was dealing drugs in the community.
The suspects are currently being held at the Harris County Jail where their bonds have yet to be set.