This is an archived article and the information in the article may be outdated. Please look at the time stamp on the story to see when it was last updated.
RICHMOND, Texas — A suspected father-and-son drug dealing duo were arrested early Wednesday after officers confiscated $40,000 in street drugs from their home in Richmond, according to the Fort Bend County Sheriff's Office.
The sheriff's office allegedly found 2.5 pounds of marijuana and 1,176 grams of suspected THC infused substances at residence in the 6700 block of Pickett in the Tara subdivision. It appears several hundred dollars were also confiscated. Investigators said the marijuana and other drug contraband found inside the home suggest the family participated in drug dealing.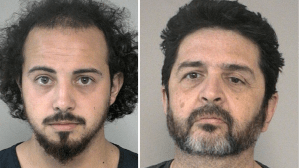 Arthur Elizondo, 57, and William Elizondo, 25, are charged with both possession and manufacturing/delivery of a controlled substance in a drug free zone. The first offense is a third degree felony and the later is a first degree felony.
The suspects were arrested at the home and have been booked into the Fort Bend County Jail.
"The Narcotics Task Force members are keeping busy trying to clean up our neighborhoods," Sheriff Troy Nehls said. "I commend them on all the hard work."