This is an archived article and the information in the article may be outdated. Please look at the time stamp on the story to see when it was last updated.
HOUSTON – A Houston man accused of transporting explosives has been arrested after undercover FBI agents caught him buying materials online.
Cary Lee Ogborn, 50, is charged with attempting to transport explosives with the intent to kill, injure, or intimidate an individual or damage a vehicle or building. FBI agents said he was taken into custody Friday after picking up a package he believed to contain explosives.
Ogborn ordered the explosive materials online on a network of computers designed to conceal his real IP address and AlphaBay, a digital marketplace where vendors conduct anonymous transactions involving the sale of illegal goods, according to investigators. Ogborn was identified under the user name "boatmanstv," agents said.
FBI officials said Ogborn sent a private message on the network to a vendor, who was actually an undercover agent. Investigators said he told the agents he wanted to use the explosives to blow up a shed-like building and vehicle. Ogborn eventually placed an order for items he intended to use, according to the charges.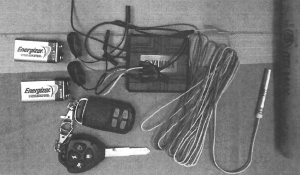 "Looking for wireless transmitter with detonator. Everything I need to set [off] a 5 gallon can of gas from a good distance away," Ogborn said in the message, according to the agent. "Don't need big explosion, just need to make sure building [20-by-40 feet] made of wood burns to the ground. I don't have a problem with being close [by]. Just can't use fuse because it will be at night and fuse burning can be seen at night."
In messages closer to the delivery date, investigators said Ogborn shared his ultimate plan after speaking with the agent over a period between August and September.
"The idea we have for this person is, while he's sleeping we put grenade in back of truck and run to our car 20 to 30 meters away," Ogborn said in a message, according to the agent. "Then the truck blow up. He [hears] truck blow up and come outside while he outside we blow up house."
According to court documents, among the items ordered were a grenade, cellular trigger and
Investigators said after receiving the package and opening it, Ogborn was soon arrested.
If convicted, Ogborn faces up to 10 years in prison and a fine of up to $250,000.
The FBI Joint Terrorism Task Force conducted the investigation with the assistance of the Montgomery County Sheriff's Office, Houston High Intensity Drug Trafficking Area, Montgomery County Narcotics Enforcement Team and U.S. Postal Inspection Service.