This is an archived article and the information in the article may be outdated. Please look at the time stamp on the story to see when it was last updated.
HOUSTON — FBI investigators released images Tuesday showing a person accused of robbing a Woodforest National Bank in northwest Houston over the summer.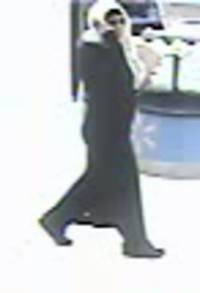 The suspect entered the bank inside a Walmart at 3450 W. FM 1960 around 9:30 a.m. on June 29.
Witnesses described the bank robber as a woman, but the FBI believe the suspect could be a man. The suspect wore a large white scarf with brown and gold details around her head, a long black dress, and red and gold sunglasses.
According to FBI Violent Crime Task Force, the alleged robber approached the count and gave the teller a threatening out demanding cash. The teller, in fear for her life and personal safety, gave the suspect an undisclosed amount of cash.
Investigators said the suspect then left the store in a small, white car of unknown make and model.
Crime Stoppers of Houston is offering up to $5,000 for information leading to the identification and arrest of this bank robber. If you have any information, please call the Crime Stoppers tip line at 713-222-TIPS (8477) or the FBI Houston Field Office at (713) 693-5000.
All tipsters remain anonymous.