This is an archived article and the information in the article may be outdated. Please look at the time stamp on the story to see when it was last updated.
HOUSTON — The National Weather Service has issued a Flash Flood Watch for the city of Houston until 4:00pm. This means conditions will be such that any storms forming in our area during this period may cause flash flooding.
Weather radars show slow-moving, heavy rainfall along the coastal counties. Meteorologist estimate between 2 to 5 inches of rain have already fallen over Galveston and Brazoria counties since Monday night and up to 9 inches in Brazoria County near Danbury. Rainfall amounts of 2 to 3 inches are possible along with isolated amounts of 4 to 6 inches.
Officials said the watch will impact the several Houston area and surrounding counties:
Harris
Fort Bend
Brazoria
Galveston
Liberty
Chambers
Austin
Matagorda
Jackson
Wharton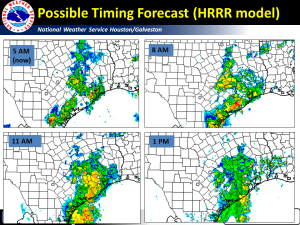 High Water Areas
SH-35 Eastbound At GARRETT CR 33 in Brazoria County - Verified at 6:51 a.m. Tuesday
SH-35 Westbound At GARRETT CR 33 in Brazoria County - Verified at 6:57 a.m. Tuesday
Houston residents should be prepared for flash flooding by:
Ensuring they stay up-to-date with changing conditions
Making sure emergency alerts are enabled on their mobile devices
Setting their NOAA Weather Radios to "Alert" mode
Begin planning for the impact of flash flooding, which may mean delaying or canceling outdoor activities.