This is an archived article and the information in the article may be outdated. Please look at the time stamp on the story to see when it was last updated.
HOUSTON — Firefighters extinguished flames sparked by an electrical fire Wednesday night at a scrap metal recycling business in the Greater East End area, according to the Houston Fire Department.
The fire broke out around 10:30 p.m. at the Derichebourg Recycling USA yard at 1 Wharf Street.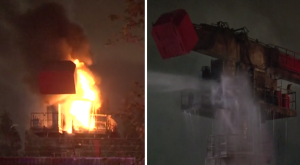 Investigators said several workers were on-duty, including a man who was inside a crane that caught fire. The man was able to get out of the crane before the construct vehicle was completely engulfed.
Officials said the fire started inside the motor of the crane.
No one was injured, firefighters said.