HPD: Car flips multiple times during fatal crash in Westchase District
This is an archived article and the information in the article may be outdated. Please look at the time stamp on the story to see when it was last updated.
HOUSTON — It's possible speeding cost a driver his life Tuesday night after police said the victim lost control of his vehicle in the Westchase District, the Houston Police Department.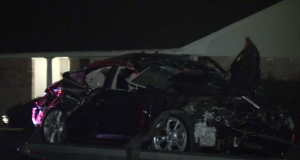 The driver and a passenger — both men — were headed eastbound on Richmond Avenue  at a high rate of speed around 7 p.m. Investigators said the vehicle either went over a hump in the intersection or struck the curb, causing the vehicle to slide sideways and slam into a light pole. The pole was knocked down, and the upside down vehicle continued to roll before crashing through a yard and stopping in front of a house near S. Gessner Road.
Police said the driver was ejected from the car during the accident.
The men were taken to the hospital, where the driver later passed away. The passenger is in stable condition, police said.