This is an archived article and the information in the article may be outdated. Please look at the time stamp on the story to see when it was last updated.
HOUSTON — A driver was seriously injured Tuesday night after losing control of his pickup truck and crashing into an industrial structure in the Greater Inwood area, according to the Houston Police Department.
Officers responded to an industrial park on N. Houston Rosslyn Road at W. Mount Houston Road around 10 p.m. Investigators said the driver was headed westbound on W. Mount Houston when he failed to make a turn at the intersection and continued straight. The pickup truck reportedly hit a curb where the road ends, causing the vehicle to go airborne before crashing into a fence and several metal pipes.
The driver was pinned inside the vehicle and had to be removed by a heavy rescue team with the Houston Fire Department.
He was taken to the hospital in serious but stable condition, police said.
HPD said no other vehicles were involved in the crash, which is still under investigation.
The following images were taken at the scene: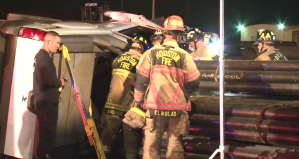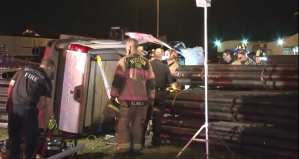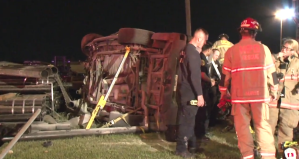 More Locals Headlines:
Stay connected! Download the CW39 NewsFix app for iOS or Android devices and the CW39 Weather app for iOS or Android devices.