This is an archived article and the information in the article may be outdated. Please look at the time stamp on the story to see when it was last updated.
HOUSTON — Capital murder charges are possible for a mother and her boyfriend after the suspicious death of the woman's 2-year-old son at a southwest Houston home over the weekend, prosecutors said.
Rajfik Dominique Keating, 24, and Lynettte Monique Gasper-Washington, 25, went before a Harris County judge on Tuesday morning.
The couple is currently charged with injury to child, but the offense could be upgraded as investigators uncover disturbing new details about the child's home life.
The Houston Police Department responded to a 911 call in the 7500 block of Creekbend Drive around 10 p.m. on Saturday. When officers arrived, paramedics were performing CPR on the unresponsive toddler before placing the boy into an ambulance.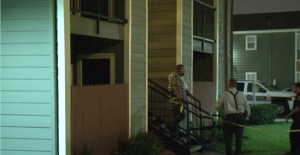 The victim was taken to Southwest Memorial Hermann Hospital, where he was pronounced dead.
Homicide is investigating whether foul play or natural circumstances led to the toddler's death since the boy had several visible injuries. Investigators said Keating and Washington hit the child with their hands, beat the boy with a belt and then hit the toddler with a hot object.
On Tuesday, the Harris County District Attorney's Office said prosecutors  are awaiting autopsy results.
According to Children's Protective Services, an 8-month-old boy and a 5-year-old girl were removed from the home and are now in foster care. CPS had no previous involvement with the family.  The infant is in medical and the little girl has burns on her legs, police said. She's currently being interviewed.
The child's name has not been released.
The couple's bail is set at $500,000 bond each.