This is an archived article and the information in the article may be outdated. Please look at the time stamp on the story to see when it was last updated.
HOUSTON — Several medical personnel and patients — some still in their beds — are being evacuated from Ben Taub hospital Tuesday afternoon as officers execute a secondary search of the building following reports of an active shooter, the Houston Police Department said.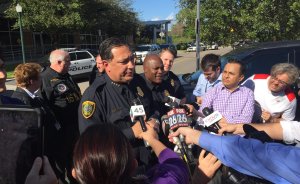 "No one has been injured. No one has been found shot. And no shooter has been apprehended," HPD Chief Art Acevedo said. "The Houston Police Department has searched all six floors behind us and the basement, and we have not found any evidence of an active shooter. We're also looking at all of the security cameras and have not found a suspect."
The reports of shots being fired came in around 2 p.m. A witness said the alleged shooting happened on the second floor at the Ear, Nose and Throat clinic. Acevedo said individuals have reported seeing an armed white man of an unknown age and with a bald head, but there has been no evidence of such.
"It's an ongoing investigation, we haven't found any victims or any evidence of an active shooter," Acevedo said.
We are responding to reports of shots fired at Ben Taub Hospital; SWAT and PIO enroute #hounews

— Houston Police (@houstonpolice) February 21, 2017
The chief said the large police presence around and inside the hospital is a part of standard protocol.
"They're still a lot of people in there. There's about six or seven floors, so there are still a lot of people in there," a witness said. "I think, they just wanted to get us out."
Outside the hospital nurses and doctors continued to work with patients who were wheeled outdoors.
People inside and outside the hospital have been tweeting their loved ones, letting them know whether they're safe or in danger.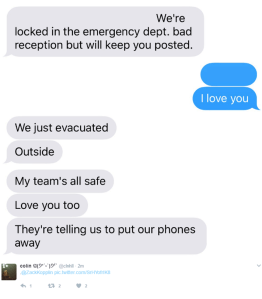 Officers patrolling the area where first to the scene, HPD said. Ben Taub officials quickly issued a "Code White," which signals hospital employees to secure all exits and entry ways, hospital staff and patients.
At Ben Taub report of active shooter. No victims located. Active search continues. All patients and employees safe at this point.

— Chief Art Acevedo (@ArtAcevedo) February 21, 2017