This is an archived article and the information in the article may be outdated. Please look at the time stamp on the story to see when it was last updated.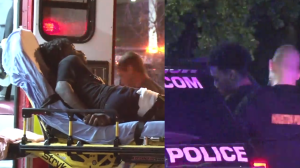 HOUSTON — Two alleged career criminals have been arrested after the stolen vehicle they were driving crashed during a police chase and the suspects tried to escape on foot early Friday in the north Houston area.
The Harris County Sheriff's Office had spent two days looking for the men, who are also suspects in multiple robberies, burglaries and carjackings.  The suspects will be facing charges filed through both law enforcement agencies.
A Houston Police Department officer spotted the stolen Kia on the North Freeway near W. Little York Road at around 12:30 a.m. The cop was being fed GPS directions from the car's owner, a woman who had allegedly been carjacked by the suspects hours earlier.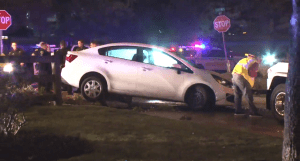 The officer signaled the driver to pull over, but he refused and a chase ensued. Police followed the stolen vehicle down the highway to Remington Valley Drive, where the driver tried to turn but was going to fast and lost control. The car crashed into some bushes and rocks in the median, forcing both men jump out of the car and attempt to escape on foot.
HPD and Harris County deputies set up a perimeter in the area and eventually caught the suspects using K-9 officers.
One of the police dogs bit a suspect, who was taken to the hospital.