This is an archived article and the information in the article may be outdated. Please look at the time stamp on the story to see when it was last updated.
NEW CANEY, Texas — Officers have arrested a man accused of theft and suspected in other crimes in the New Caney area, the Montgomery County Constable's Office said.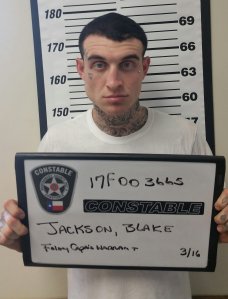 Blake Jackson, 26, is charged with third degree felony theft. However, the constable's office believes Jackson may be linked to other aggravated crimes in the area.
The suspect was arrested Monday around 2:45 p.m. after officers stopped his vehicle on Roberts Road for an expired registration sticker. Jackson was a passenger in the vehicle, officers said.
Investigators said Jackson had dyed his hair jet black in an attempt to hide his identity.
The suspect is being held at the Montgomery County Jail without bond.