This is an archived article and the information in the article may be outdated. Please look at the time stamp on the story to see when it was last updated.
HOUSTON — A suspected shoplifter is on the run after being accused of stealing liquor from at least two Spec's locations in Houston, the Montgomery County Sheriff's Office said.
The latest hit was Aug. 8 at the Spec's Wine, Spirits & Finer Foods on the North Freeway at Rayford Road in Spring, Texas. Deputies said the man walked into the store around 11:30 a.m. and started to shop. He reportedly loaded his basket with four large cases of Crown Royal— each box containing two dozen 1.75 liter bottles!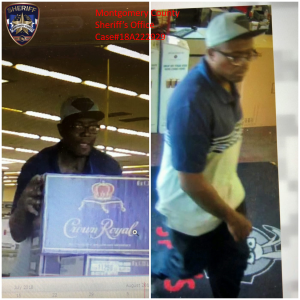 He then allegedly left the store without paying, placing the stolen liquor into a silver mid-sized car and then driving off.
While on scene, officers learned the same man may have stolen liquor from another Spec's store in Houston the day before.
Anyone with information regarding this suspect or crime is asked to the contact the MCSO at 936-760-5800 or Crime Stoppers at 1-800-392-STOP (7867).