This is an archived article and the information in the article may be outdated. Please look at the time stamp on the story to see when it was last updated.
HARRIS COUNTY, Texas — The Harris County Constable's Office has arrested a man accused of threatening to kill his family member and other harassment after a high-speed chase ended in a crash Thursday night on the Katy Freeway.
Precinct 5 deputies were stationed outside the victim's home after the suspect threatened to kill the woman on Monday night and then fired multiple gunshots at her house, deputies said. On Tuesday, the man allegedly started calling and harassing the victim.
Investigators said the man drove up to the victim's home around 10:30 p.m. Thursday and was spotted by deputies. Officers tried to stop the suspect, but he took off and a chase ensued— reaching speeds as high as 120 mph at some points.
Officers followed the suspect down the Grand Parkway and onto the Katy Freeway. He was eventually stopped after deputies laid spikes on the road near Beltway 8, causing the suspect to lose control of his vehicle and crash into a concrete wall.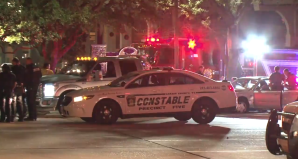 The constable's office said he wasn't injured and was quickly taken into custody.
The suspect was already wanted in connection to several domestic violence charges. He is now facing felony evading charges as well.
A HCCO spokesperson said the victim and suspect's names are being withheld due to privacy concerns.