This is an archived article and the information in the article may be outdated. Please look at the time stamp on the story to see when it was last updated.
CONROE, Texas — One of four suspects in a fatal Conroe jewelry store robbery was sentenced to 40 years in prison Thursday, according to the Montgomery County District Attorney's Office.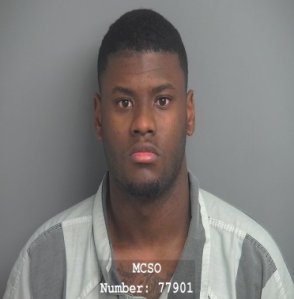 Santo LaCharles Stephens, 21, has been convicted of aggravated robbery and must serve at least 20 years of his sentence before being eligible for parole. However, eligibility for parole does not guarantee parole.
In October 2016, prosecutors said the suspect and two other men robbed Jeff's Jewelry on Highway 105 West while armed with handguns and a hammer. During the robbery, a shootout erupted between the suspects and employees, resulting in one of the alleged robbers being fatally shot.
Stephens allegedly attempted to smash a glass case containing jewelry and when he was unsuccessful, ran to the cashier's counter to assist armed robber Javian Jackson in getting cash from the cash register.  In doing so, Stephens threatened store owner with the hammer.  Stephens and another armed robber, Kadarius Royston, both fled when shots were fired by store employees, in response to a shot fired by Jackson.
Jackson attempted to flee after grabbing the cash, but was shot and killed.  His gun and a bag with the cash were recovered next to his body.
Stephens and Royston fled in a white Dodge Charger driven by another co-defendant, which met up with a second getaway vehicle, driven by co-defendant Sedrick Townsend.
Royston, Townsend and the initial getaway driver have all pled guilty and are awaiting sentencing hearings in the next 3 weeks.
Investigators said Stephens' DNA was found on a black sweatshirt and hat Stephens was seen wearing in the store surveillance video. The DNA evidence corroborated testimony by witnesses who identified Stephens as the hammer-wielding and glass-smashing defendant on the video.
Punishment evidence from several HPD officers and a victim of one of Stephens's previous crimes showed that Stephens served three separated Harris County juvenile probations before an adult robbery arrest that resulted in an assault conviction, also in Harris County.
Stephens had other arrests for attempted burglary of a habitation, theft of a firearm, and assault family violence.
Despite these Harris County arrests, Stephens had never served time in TDCJ prior to the 40 year TDCJ sentence handed down Thursday,  following the guilty verdict earlier in the day.
Stephens had posted bond and was out of jail during his trial last week, but upon the jury's guilty finding, the court immediately placed him in custody.